---
Mrs. Isla Carroll Sterling Turner
---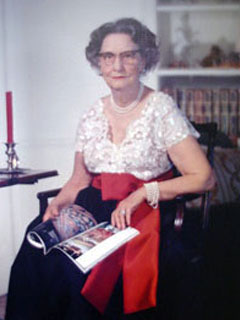 ---
In 1885 Isla Randa Carroll was born in a small rural town near Temple, Texas, little did she know that she would become one of the faces of philanthropy. Like W. K. Kellogg and Andrew Carnegie, Isla Carroll Sterling-Turner was one of those fortunate people who generously shared her treasure with her friends and other Texans in need. Subsequently, the lives of untold numbers of Texans have been and will continue to be improved because of her industry, her thoughtfulness, and her consideration for others.
This photograph of Mrs. Isla Carroll Sterling Turner was taken in her later years following the establishment in 1956 of the Isla Carroll Turner Friendship Trust to originally support 13 friends of Mrs. Turner and to benefit the needy elderly in Harris County. In 1982 the geographic support area was expanded from only Harris County Texas to the entire State of Texas but only to benefit the elderly.
Mrs. Turner's first husband, Frank Prior Sterling, was one of the founders of The Humble Oil & Refining Company (today's Exxon Mobil Corporation). The first wells were drilled in the early 20th century in Humble, Texas (near Houston).
The Isla Carroll Turner Friendship Trust is a unique trust that only supports services to the elderly in Texas. Currently, support is being offered to benefit only those age sixty (60) or older and individuals born with Down Syndrome age forty-seven (47) and above living in Texas. Organizations seeking support must be either a 501(c)(3) organization or a government agency that is to be treated like a 501(a)(3) organization in the State of Texas. The Trust is not permitted to assist individuals. Restrictions by geography or any that fall within the governance of the charter may be imposed by the Board.
Some of Mrs. Isla Carroll Sterling - Turner's gifts have benefitted organizations such as St. Dominic Village, Interfaith CarePartners, University of Houston, University of Texas Center On Aging, Baylor College of Medicine Huffington Center On Aging, Seven Acres Jewish Geriatric Center, Evelyn Rubenstein Jewish Community Center, Bering Omega Community Center, Catholic Charities of The Archdiocese of Galveston-Houston, Interfaith Caring Ministries, Interfaith Ministries for Greater Houston, University of Texas Medical Branch, The Brookwood Community, CHRISTUS Foundation for Healthcare, Eden Hill Communities (Eden Home), South East Assistance Ministries, Waller Assistance and Restoration Ministries, Golden Age Hobby House of Houston, Archdiocese of Galveston-Houston, Metroport Meals On Wheels, Christian Community Service Center (San Antonio), Good Samaritan Foundation, Austin Habitat for Humanity, Houston Habitat for Humanity, Alzheimer's Association Houston and Southeast Texas Chapter, Capital Area Food Bank of Texas, Inc., The Care Communities (Austin), Cathedral Health & Outreach Ministries, Clarewood House, W. Leo Daniels Towers, Depression & Bipolar Support Alliance of Greater Houston, Dominican Sisters of Houston, Texas, Inc., Easter Seals of Greater Houston, Easter Seals of Travis County, Friends for Life, Fort Bend Seniors Meals On Wheels and Much, Much More, Golden Rule Broadcasting, Halo House Foundation, Houston Aphasia Recovery Center, Houston Area Parkinson Society, Houston Hospice, Houston's Amazing Place, Inc., Missions of Yahweh, Inc., New Hope Housing, Northwest Assistance Ministries, Project MEND, Rebuilding Together – Houston, The Rose, St. James House of Baytown, Stilwell Retirement Residence (Texas Retired Teachers Residence Corporation) (Waco), Volunteer Interfaith Caregivers, Southwest, Wheeler Avenue 5C's, Inc., Tellepsen Family Downtown YMCA, Precinct2gether Houston, Neighborhood Centers, Inc. and many others.
---